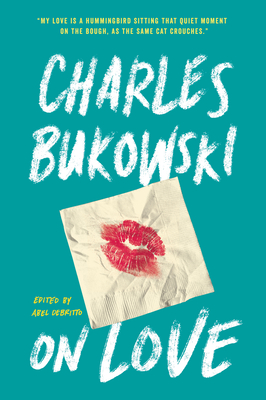 $16.99

Usually Ships in 1-5 Days
Description
---
A companion to On Writing and On Cats: A raw and tender poetry collection that captures the Dirty Old Man of American letters at his fiercest and most vulnerable, on a subject that hits home with all of us.
Charles Bukowski was a man of intense emotions, someone an editor once called a "passionate madman." In On Love, we see Bukowski reckoning with the complications and exaltations of love, lust, and desire. Alternating between tough and gentle, sensitive and gritty, Bukowski lays bare the myriad facets of love—its selfishness and its narcissism, its randomness, its mystery and its misery, and, ultimately, its true joyfulness, endurance, and redemptive power.
Bukowski is brilliant on love—often amusing, sometimes playful, and fleetingly sweet. On Love offers deep insight into Bukowski the man and the artist; whether writing about his daughter, his lover, his friends, or his work, he is piercingly honest and poignantly reflective, using love as a prism to see the world in all its beauty and cruelty, and his own fragile place in it. "My love is a hummingbird sitting that quiet moment on the bough," he writes, "as the same cat crouches."
Brutally honest, flecked with humor and pathos, On Love reveals Bukowski at his most candid and affecting.
About the Author
---
Charles Bukowski is one of America's best-known contemporary writers of poetry and prose and, many would claim, its most influential and imitated poet. He was born in 1920 in Andernach, Germany, to an American soldier father and a German mother, and brought to the United States at the age of two. He was raised in Los Angeles and lived there for over fifty years. He died in San Pedro, California, on March 9, 1994, at the age of seventy-three, shortly after completing his last novel, Pulp.
Abel Debritto, a former Fulbright scholar and current Marie Curie fellow, works in the digital humanities. He is the author of Charles Bukowski, King of the Underground, and the editor of the Bukowski collections On Writing, On Cats, and On Love.