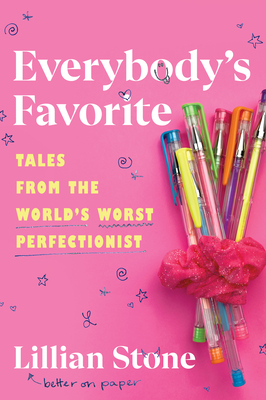 $27.99

Usually Ships in 1-5 Days
Description
---
"Many have tried, and many will try, to capture the sweet, innocent insanity of life as a young girl during the '90s and 2000s. None have come close to the comedic perfection Lillian Stone nails again and again in Everybody's Favorite." —Glamour, Best Nonfiction Books of 2023
From one of the Internet's favorite self-deprecating commentators comes Everybody's Favorite, a laugh-out-loud essay collection that tackles the relentless pursuit of perfection while navigating growing up in the early 2000s.
Lillian Stone—childhood evangelical, AOL girlfriend, and professional nail biter is always living on the edge of anxiety. From the pitfalls of a girl plagued by religious trauma, the incomprehensible yet unforgiving need for perfection, and a poorly-behaved twenty-pound beagle, Everybody's Favorite is a refreshing story of what it means to pick yourself when the world is telling you otherwise. Still navigating the ins and outs of adulthood, accompanied by an obsessive-compulsive disorder that's become an exercise in self-acceptance and thus compassion, Lillian has become an expert in fighting the urge to be someone else's idea of perfect. In this laugh-out-loud essay collection, replete with cringe-inducing touchstones of an early-aughts girlhood, Lillian Stone recounts her quest to be everybody's favorite.
Set largely during the early 2000s Ozarks, and peppered with Stone's biting satire and gloriously self-deprecating personal anecdotes, Everybody's Favorite is a wry, empathetic look at the chaos that ensues when we contort ourselves into an ever-changing assortment of socially acceptable shapes —only to fall out of place, twist an ankle, pee your pants a little, and realize that the pursuit of perfection isn't really all that interesting. 
About the Author
---
LILLIAN STONE is a humor writer, journalist, and regular contributor to The New Yorker, McSweeney's Internet Tendency, Slate, and others. A leader in the online humor and satire space, she was named one of Paste magazine's 15 Best Humorists Writing Today. She lives in Chicago.
Praise For…
---
"Many have tried, and many will try, to capture the sweet, innocent insanity of life as a young girl during the '90s and 2000s. None have come close to the comedic perfection Lillian Stone nails again and again in Everybody's Favorite." — Glamour
"Stone's painfully sharp observations will draw readers in, and her honesty will keep them enthralled. This will go a long way toward helping readers feel less alone."  — Publishers Weekly (starred review)
"I love to hear funny people eviscerate themselves powerfully and with cutting humor. Lillian delivers in this nonstop review of her life, inner and, mostly, outer. Funny. Enjoy."  — Bob Odenkirk
"If adolescence is a dumpster fire, Lillian Stone is an intrepid dumpster diver, rescuing the bric-a-brac of a bygone, early internet era and holding it up for us to admire. And cringe at. It's the figuring-it-outness of Stone's work I most adore. In this finely crafted coming-of-age tale, Stone jubilantly dismantles shame, both of body and spirit. A book to fold in your back pocket and take on the train, to fill with stars and scribbles and squiggly underlines. Judy Blume and John Waters, please step forward to claim your love child." — Greg Marshall, author of Leg
"...Relatable, moving, and emotionally hilarious." — Vulture