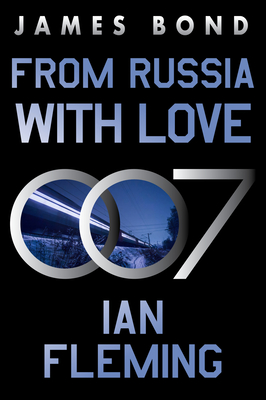 $18.99

Usually Ships in 1-5 Days
Description
---
JAMES BOND GOES HEAD-TO-HEAD WITH SMERSH IN A BID TO SECURE A KEY PIECE OF SOVIET INTELLIGENCE
SMERSH, the Russian intelligence unit whose acronym stands for "Death to Spies," is hell-bent on destroying Special Agent James Bond.
His death would deal a catastrophic hammer blow to the heart of the British Secret Service.
The lure? A beautiful woman who needs 007's help. Tatiana Romanova is a Russian spy who promises to hand over the prized Spektor decoding machine if Bond aids her defection. Bond suspects a trap but can't resist the opportunity to give the British the upper hand in a chilling new front of the Cold War.
So begins a deadly game of bluff and double bluff, with Bond a marked man as he enters the murky world of Balkan espionage.
About the Author
---
Ian Lancaster Fleming was born in London in 1908. His first job was at Reuters news agency, after which he worked briefly as a stockbroker before working in Naval Intelligence during World War Two. His first novel, Casino Royale, was published in 1953 and was an instant success. Fleming went on to write thirteen other Bond books as well as two works of nonfiction and the children's classic Chitty Chitty Bang Bang. The Bond books have earned praise from figures such as Raymond Chandler, who called Fleming "the most forceful and driving writer of thrillers in England" and President Kennedy, who named From Russia with Love as one of his favorite books. The books inspired a hugely successful series of film adaptations which began in 1962 with the release of Dr. No. He was married to Ann O'Neill with whom he had a son, Caspar. He died in 1964.