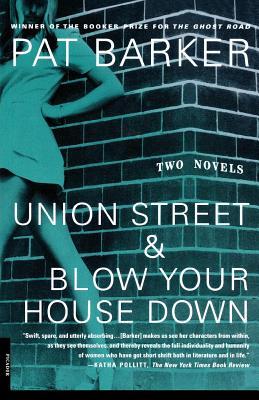 $24.00

Usually Ships in 1-5 Days
Description
---
Union Street, Pat Barker's first novel, concerns seven neighboring women near a factory in northeast England. Life for these women is trying: some of them are married to alcoholics, some are victims of abuse; one is old and near death, another is still a child but has the experience of an adult; all are struggling to survive. First published in 1982, it was made into the film Stanley & Iris by MGM in 1989, starring Robert DeNiro and Jane Fonda

Blow Your House Down, Barker's second novel, also portrays the lives of women in industrial England--but these women are prostitutes, living in a northern England city that is stalked by a vicious, Jack the Ripper-style serial killer who is singling out women with nowhere else to go.
About the Author
---
Pat Barker's novels include Another World, Border Crossing and Noonday. She is also the author of the highly acclaimed Regeneration Trilogy, comprising Regeneration, which has been made into a film starring Jonathan Pryce and James Wilby, The Eye in the Door, winner of the 1993 Guardian Fiction Prize, and The Ghost Road, winner of the 1996 Booker Prize. She lives in England.
Praise For…
---
"A first-rate first novel . . . pungent, raunchy dialogue . . . passages of fine understated wit." —Ivan Gold, The New York Times Book Review on Union Street

"The novel's point is life, and how rich and hard it is, and the different ways people have of toughing it through the pain without being crushed." —Meredith Tax, The Village Voice on Union Street

"A courageous and disturbing novel." —Elizabeth Ward, Washington Post Book World on Blow Your House Down

"Swift, spare, and utterly absorbing . . . [Barker] makes us see her characters from within, as they see themselves, and thereby reveals the full individuality and humanity of women who have got short shrift both in literature and in life." —Katha Pollitt, The New York Times Book Review on Blow Your House Down