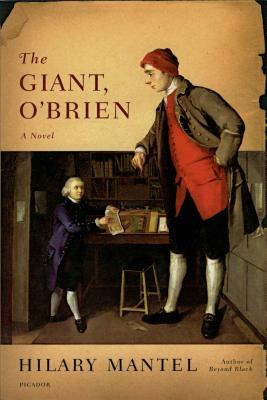 $19.00

Usually Ships in 1-5 Days
Description
---
New York Times Book Review Notable Book of the Year
Los Angeles Times Best Book of the Year

London, 1782: center of science and commerce, home to the newly rich and the desperately poor. In the midst of it all is the Giant, O'Brien, a freak of nature, a man of song and story who trusts in myths, fairies, miracles, and little people. He has come from Ireland to exhibit his size for money. O'Brien's opposite is a man of science, the famed anatomist John Hunter, who lusts after the Giant's corpse as a medical curiosity, a boon to the advancement of scientific knowledge.

In her acclaimed novel, two-time Man Booker Prize winning author Hilary Mantel tells of the fated convergence of Ireland and England. As belief wrestles knowledge and science wrestles song, so The Giant, O'Brien calls to us from a fork in the road as a tale of time, and a timeless tale.
About the Author
---
Hilary Mantel twice won the Booker Prize, for her best-selling novel Wolf Hall and its sequel, Bring Up the Bodies. The final novel of the Wolf Hall trilogy, The Mirror & the Light, debuted at #1 on the New York Times bestseller list and won critical acclaim around the globe. Mantel authored over a dozen books, including A Place of Greater Safety, Beyond Black, and the memoir Giving Up the Ghost.
Praise For…
---
"A novelist without peer in her generation . . . No reader who loves fiction should miss this opportunity to read this extraordinary work." —San Francisco Chronicle

"Mantel's novel is in one sense a brilliant pastiche of Swift and Joyce [but] it becomes her own style, as acute and arresting as is her vision of history." —The New York Review of Books