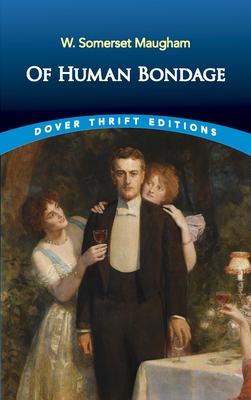 $11.00

Usually Ships in 1-5 Days
Description
---
Desperate for love and eager for experience of a wider world, Philip Carey grows up in the oppressive confines of his uncle's vicarage. The sensitive orphan is burdened by a club foot that sets him apart from his schoolmates and heightens his loneliness. Seeking passion and inspiration, he pursues his dreams of becoming an artist in Heidelberg and Paris but returns to London, humbled by his own mediocrity. But Philip's degradation has only just begun, as an obsession with a vulgar, cold-hearted waitress threatens to destroy what remains of his idealism.
Like his protagonist's physical deformity, W. Somerset Maugham's homosexuality was a constant source of anxiety, alienation, and shame. He termed his masterpiece "not an autobiography, but an autobiographical novel; fact and fiction are inexorably mingled; the emotions are my own." By combining residual Victorian values with the early twentieth century's mood of irony and despair, Maugham offers a timeless view of emotional isolation and the possibility of redemption through self-knowledge and maturity.
About the Author
---
William Somerset Maugham (1874-1965) trained as a physician, and his fascination with the patients he tended in London's slums inspired his first novel, Liza of Lambeth. He then turned to writing plays, and his witty, urbane comedies met with immediate success. Although his works have since fallen into unjust neglect, he was among the most popular authors of the 1930s, writing novels, plays, short stories, essays, and travel books.