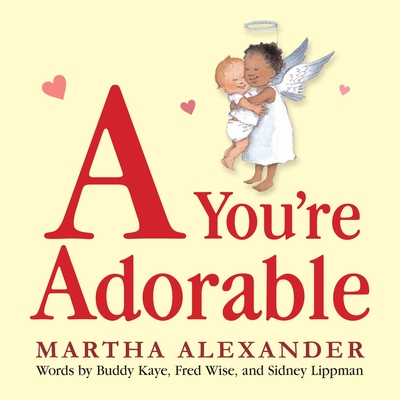 Description
---
"Warm illustrations by Martha Alexander . . . and the silly words address kissable little sweethearts." —Publishers Weekly

A You're adorable 
B You're so beautiful 
C You're a cutie full of charm 
D — You'll be delighted by this delicious trip through the alphabet! Sing along as a lively company of children and assorted pets scamper across the bright pages and through the letters from A to Z. With warm and charming illustrations by Martha Alexander, this popular 1940s song by Buddy Kaye, Fred Wise, and Sidney Lippman makes a captivating board book. Complete with the music for the song, here is a ditty for your darling, a song for your sweetheart, a valentine for anytime.
About the Author
---
Sidney Lippman says, "Making an illustrated children's book out of the song is such a natural idea that I'm amazed the process wasn't reversed—that the children's book didn't come first, followed by the song."

Martha Alexander said, "I've never had so much fun illustrating a book. My editor and art director said, 'No limits—do it the way you want.' That really freed me. I especially loved putting the baby animals in the pictures." Martha Alexander died in 2006.
Praise For…
---
[C]onverts the 1940s popular song . . . to board book format, with warm illustrations by Martha Alexander . . . the silly words work well as an address to kissable little sweethearts.
—Publishers Weekly

From cuddly puppies to bright balloons, costumed kids to bouncy babies, this board book offers entertaining illustrations on every page to help parents sing the praises of their very own special someone.
—The Seattle Times