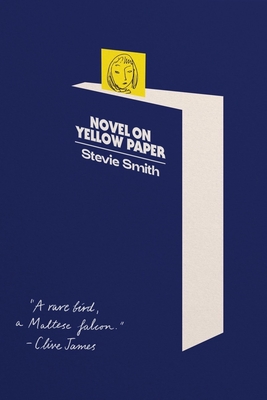 Description
---
The eccentric landmark novel by the legendary English poet Stevie Smith: "a rare bird, a Maltese falcon" (The New Yorker)
I am a forward-thinking girl, and don't stay where I am. 'Left right, be bright.'
Pompey Casmilus, Stevie Smith's loquacious alter ego, works as a secretary and writes down on yellow office paper this wickedly amusing novel. "Dear Reader," she addresses us politely in the whirlwind of her opinions on death, sex, anti-Semitism, art, Greek tragedy, friendship, marriage, Nazism, gossip, and the suburbs. But most of all Pompey talks about love.
When Smith first tried to get her poems published in 1935, she was told by a publisher to "go away and write a novel." Novel on Yellow Paper, the happy result of this advice, made its author an instant celebrity and was acclaimed as "a curious, amusing, provocative and very serious piece of work" (The London Times Literary Supplement, 1936).
About the Author
---
Stevie Smith (1902-1971) was born in Hull, England, but when she was three she moved with her parents and sister to Avondale Road in Palmers Green. Here she stayed for over sixty years, after her parents' death living with her beloved "Lion Aunt." She was the author of three novels and a dozen collections of poetry. Although baptized Florence Margaret Smith, she was nicknamed Stevie after Steve Donoghue the jockey.
Praise For…
---
A more individual talent than Stevie Smith's you don't get. Her pre-war novel Novel on Yellow Paper is an unforgettable work that has nevertheless needed to be rediscovered several times since the day it was first greeted, correctly, as a masterpiece.

— Clive James - The New Yorker

She is a writer of astonishing skill, range, comedy, and depth of feeling; she is inimitable, strange, and utterly original.
— Hermione Lee - The New York Review of Books

Smith's great gift is to sit on our shoulder like a feisty bird that's traveled a long distance, has been half starved on the way, and hopes your map will be different from hers.
— Barbara Berman - The Rumpus

I am a desperate Stevie Smith addict.
— Sylvia Plath

She is a complete original, mixing subjects (Anglican theology, cats, suicide, sex, King Arthur), tones and vocabularies any writer of lesser confidence would have spent a lifetime trying to keep apart.
— Katha Pollit - New York Times Book Review

Unique and cheerfully gruesome
— Robert Lowell