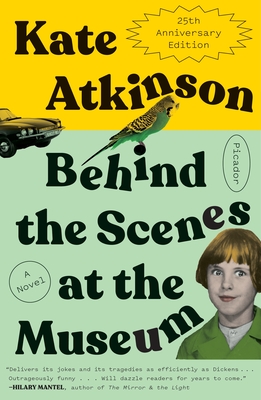 $18.00

Usually Ships in 1-5 Days
Description
---
A twenty-fifth anniversary edition of award-winning, bestselling author Kate Atkinson's debut novel, Behind the Scenes at the Museum, a deeply moving and deeply funny family story of happiness and heartbreak

National Bestseller

Winner of the Whitbread Book of the Year

A New York Times Book Review Notable Book of the Year

Ruby Lennox begins narrating her own life at the moment of her conception and from there takes the reader on a whirlwind tour of the twentieth century as seen through the eyes of a girl determined to learn more about her family and the secrets it keeps.

Kate Atkinson's dazzling first novel, named the 1995 Whitbread Book of the Year in England, is a darkly comic, deeply moving story of family heartbreak and happiness.
About the Author
---
Kate Atkinson is the author of a short-story collection, Not the End of the World, and critically acclaimed novels including Human Croquet, Case Histories and One Good Turn. She lives in Edinburgh, UK.
Praise For…
---
"Breathtaking...Kate Atkinson's luminescent imagery is sure and sophisticated, poetic and darkly comic...Astonishing."—Amanda Heller, The Boston Globe

"Remarkable...A multigenerational tale of a spectacularly dysfunctional Yorkshire family and one of the funniest works of fiction to come out of Britain in years."—Ben Macintyre, The New York Times Book Review

"Delivers its jokes and tragedies as efficiently as Dickens once delivered his, though Atkinson has a game plan more sophisticated than Dickens's...Will dazzle readers for years to come."—Hilary Mantel, London Review of Books

"Scoundrels, malcontents, misfits, and cheats. Every family has them, though seldom are they handled with the winsome wit and wisecrackery that make Behind the Scenes at the Museum such a smart and funny read."—The Washington Times

"Startlingly original...A poignant and beautifully wrought portrait of a young girl's growth."—Johanna Stoberock, The Seattle Times

"Really comic, really tragic, bracingly unsentimental...What a triumph! What joy!"—Boston Sunday Globe

"Stunning...Out-Copperfields David Copperfield...A powerhouse of storytelling, a treasure chest bursting with the painful, pitiful, sad, always fascinating details of the most ordinary of lives."—Georgia Jones-Davis, Los Angeles Times