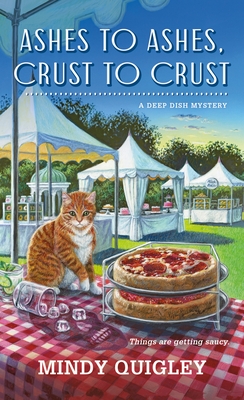 $8.99

Usually Ships in 1-5 Days
Description
---
Ashes to Ashes, Crust to Crust is the second book in Mindy Quigley's delectable Deep Dish Mystery series, set in a Wisconsin pizzeria.

Newly single pizzeria owner Delilah O'Leary is determined to keep her restaurant afloat in the picturesque resort town of Geneva Bay, Wisconsin. To boost her bottom line, she sets her sights on winning the hefty cash prize in the town's annual "Taste of Wisconsin" culinary contest. In her corner, she's got her strong-willed, "big-boned" cat Butterball, her wisecracking BFF, her cantankerous great-aunt, and a nearly-flawless recipe for Pretzel Crust Deep-Dish Bratwurst Pizza. But while Delilah and her team have been focused on pumping out perfect pizza pies, her ex-fiancé has cozied up to a new squeeze, juice bar owner Jordan Watts—Delilah's contest rival.

When one of Jordan's juice bar customers is poisoned by a tainted smoothie, Delilah lands deep in the sauce. Accusations fly, suspects abound, and a menacing stranger turns up with a beef over some missing dough. Between kale-juicing hipsters and grudge-bearing celebrity chefs, Delilah must act quickly before another one bites the crust.
About the Author
---
MINDY QUIGLEY has won a number of awards for her short stories, including the 2013 Bloody Scotland prize and the 2018 Lightbringer award. Originally from Chicago, she possesses a naturally sophisticated pizza palate. Her desert island pizza choice would be Lou Malnati's "Deep Dish Lou" or an Aurelio's thin-crust with spinach, tomatoes, and black olives. She is the author of the Deep Dish Mysteries and the Lindsay Harding Mystery series. She lives in Virginia with her history professor husband, their two children, and their miniature Schnauzer.
Praise For…
---
"Witty, character-driven, and well-plotted....The satire is a joy, Delilah's narration is sheer pleasure, and her restaurant crew provides plenty of balance. This is turning out to be one of the best new cozy series going."
—First Clue

Praise for Six Feet Deep Dish:

"Fun and engaging, [with] plenty of thrills...and toppings." —Parade

"Every now and again a cozy comes along in which the author not only checks off all of the boxes but does such an excellent job in the process that the book totally stands out from the crowd. This is the case with Six Feet Deep Dish....Droll and witty, sophisticated and credible, this is a series to watch out for." —First Clue (starred review)

"Funny, exciting, suspenseful... Delilah is a breath of fresh air." —Open Book Society (five stars)

"Your mouth will water from the first page of this delightful new cozy. You'll also love the characters, and the perfectly plotted murder had me guessing the whole way through. Delilah is my new favorite amateur detective." —Paige Shelton, New York Times bestselling author

"Delilah O'Leary is as appealing as the pizzas she serves at her new restaurant. Fiercely loyal to her friends and employees, the strong willed, hugely competent Delilah is a cozy heroine for our times. I loved everything about her and her refreshing can-do attitude to cooking pizza, running her restaurant, and solving murders, along with the occasional healthy dose of insecurity! Six Feet Deep Dish is a wonderful start to a promising series, and I can't wait to visit Geneva Bay and enjoy more of whatever's being served at Delilah & Son." —Vicki Delany, National bestselling author

"Quigley pens a deliciously twisty mystery layered with salty suspects and packed with local flavor. Six Feet Deep Dish is sure to leave cozy readers drooling for more." —Julie Anne Lindsay, bestselling author

"A delight. A delicious adventure, full of wit and charm....Quigley's excellent writing will amuse and entertain as readers immerse themselves in her twisty plotting." —Tracee de Hahn, author of the Agnes Lüthi Mysteries

"Delicious....Six Feet Deep Dish will only stoke your appetite for the next in this must-read new foodie cozy series." —Maddie Day, author of the Country Store Mysteries