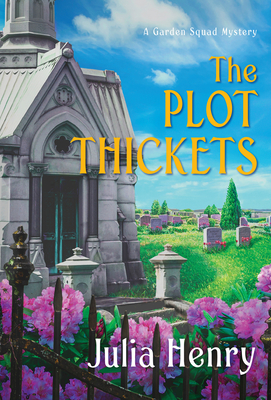 $8.99

Usually Ships in 1-5 Days
Description
---
The ever-quintessential New England town of Goosebush, Massachusetts truly shines in springtime, but when an underhanded undertaker digs herself an early grave, it's up to sixty-something gardening sleuth Lilly Jayne—and her fellow Garden Squad members of course— to unearth the cryptic killer . . .

With spring's arrival in Goosebush, Lilly and the Beautification Committee turn their eyes to new projects. A cleanup of the historic Goosebush Cemetery may be in order, after Lilly and Delia find the plots there sorely neglected and inexplicably rearranged. Lilly soon discovers that Whitney Dunne-Bradford snapped up custodianship of the graveyard once she inherited Bradford Funeral Homes. But before Lilly can get to the bottom of the tombstone tampering, she stumbles upon Whitney's body at the Jayne family mausoleum . . .

Though at first it appears Whitney died by suicide, Lilly has doubts, and apparently, so does Chief of Police Bash Haywood, who quickly opens a murder investigation. Plenty of folks in town had bones to pick with Whitney, including her stepdaughter, Sasha, and funeral home employee, Dewey Marsh—all three recently charged with illegal business practices. But when the homicide inquiry suddenly targets an old friend, Lilly and the Garden Squad must rally to exhume the truth before the real killer buries it forever . . .
About the Author
---
Julia Henry lives in Massachusetts, where she sets her mystery series. As Julianne Holmes she writes the Clock Shop Mystery Series, and as J.A. Hennrikus she writes the Theater Cop series. She blogs with the Wicked Cozy Authors (WickedCozyAuthors.com) and Killer Characters (KillerCharacters.com), tweets as @JHAuthors, is on Instagram @JHAuthors, and on Facebook. Julie works in the arts, teaches, is a member of the Mystery Writers of America and Sisters in Crime. For more, please visit JHAuthors.com.