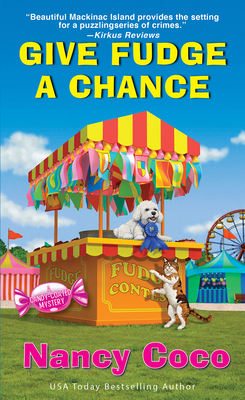 $8.99

Usually Ships in 1-5 Days
Description
---
It's summertime along Michigan's beautiful Lake Huron, and sleuth extraordinaire Allie McMurphy is determined to win this year's fudge competition at the annual Mackinac County Fair. But will a funhouse murder sour her plans?

FORECAST: FAIR WITH A CHANCE OF MURDER . . .

The Mackinac County fair is in full swing, and the air is rich with the scent of funnel cakes and the sound of carnival rides. Allie is focused on the fudge competition—another win would really put her hotel and fudge shop on the map. But she's willing to take a little break and walk through the haunted house attraction with her friend Jenn.

When they come across a body, though, it turns out not to be a prop. Soon Allie's cop boyfriend is on the scene, and the sleuthing confectioner is hunting for clues. Danger strikes too close to home when the hotel becomes the scene of a suspicious fatal accident, and Allie suspects the two deaths are connected. The case is turning into a real rollercoaster. Allie will need to hold on tight . . .
About the Author
---
Nancy Coco is the acclaimed author of the Candy-Coated Mysteries, the Oregon Honeycomb Mystery series, a number of romantic suspense novels, Western historical romances, and four additional mystery series written under the name Nancy J. Parra. An Air Force veteran who rose to the rank of sergeant, Nancy is a member of an online group of female veterans—Military Women Who Have Turned Sword to Pen (RomVets.com). She is also a member of Mystery Writers of America and Sisters in Crime. Nancy lives in Texas and is active on Facebook and Twitter. Visit her online at NancyJCoco.com.

The author will donate a portion of her earnings from this book to the ASPCA®.
Praise For…
---
Praise for the Candy-Coated Mystery Series by Nancy Coco
 
"This cleverly plotted eighth installment in the Candy Coated Mystery series had me constantly second-guessing whodunnit while admiring Nancy Coco's craftsmanship." —Criminal Element on Have Yourself A Fudgy Little Christmas
 
"Two nasty murders, charming surviving characters, plenty of Christmas cheer, and enough fudge recipes for a major sugar rush." —Kirkus Review on Have Yourself A Fudgy Little Christmas
 
"HAVE YOURSELF A FUDGY LITTLE CHRISTMAS is a mix of small-town Christmas delights with intrigue and murder thrown in." —Fresh Fiction on Have Yourself A Fudgy Little Christmas
 
"An easy romantic read complete with fudge recipes that make it even sweeter." —Kirkus Reviews on Fudge Bites
 
"There's a few scenes of Allie making fudge that are so wonderfully described that my mouth began watering. I could smell the fudge coming off the pages…. I am delighted with the characters, the setting, and the fun recipes. I really want to see where Allie and Rex go with their relationship, and how Allie fares with the hotel and her fudge shop. This is a fun and fast paced cozy mystery that would be perfect for a weekend in, under cozy blankets with a mug of hot cocoa." —Criminal Element on Fudge Bites
 
"Fudge Bites is full of disguises, danger, and one determined amateur sleuth. At the end of this book, Nany Coco gives a hint about which way things are leaning for Allie's love life. As expected, FUDGE BITES is packed with super yummy fall favorites-flavored fudge recipes. I look forward to reading the next "Candy-Coated" mystery." —Fresh Fiction on Fudge Bites
 
"Full of humor, adorable animals and some mystery twists, this is a sweet series for cozy mystery readers." —Parkersburg News & Sentinel on Fudge Bites
 
"It's all fun and games at the annual Halloween zombie walk charity event until fudge shop owner Allie McMurphy stumbles upon a real murder…With the help of handsome officer Rex Manning, the duo must use every trick in their treat bag to unmask the killer!" —Woman's World on Fudge Bites
 
"This was a delightful visit to a charming community that raised some interesting questions about fitting in and what it means to truly be considered a full-time resident." —Criminal Element on Fudge Bites
 
"Nancy Coco paints us a pretty picture of this charming island setting where the main mode of transportation is a horse-drawn vehicle. She also gives us a delicious mystery complete with doses of her home-made fudge…a perfect read to wrap up your summer!" —Wonder Women Sixty on Forever Fudge
 
"Oh, Fudge is a charming cozy, the sixth in the Candy-Coated Mystery series. But be warned: there's a candy recipe at the end of each chapter, so don't read this one when you're hungry!"—Suspense Magazine on Oh, Fudge