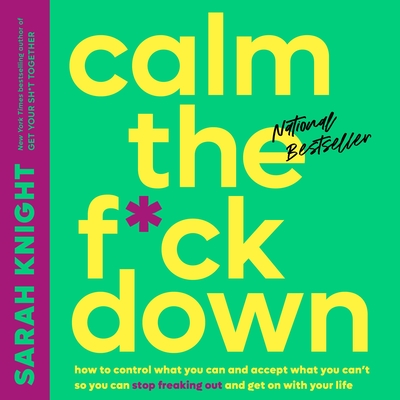 $33.00
Usually Ships in 1-5 Days
Description
---
The no-f*cks-given guide to taming anxiety and taking back control of your life, from the bestselling author of The Life-Changing Magic of Not Giving a F*ck and Get Your Sh*t Together.

Do you spend more time worrying about problems than solving them? Do you let unexpected difficulties ruin your day and do "what ifs" keep you up at night? Sounds like you need to Calm the F*ck Down.

Just because things are falling apart doesn't mean YOU can't pull it together. Whether you're stressed about sh*t that hasn't happened yet or freaked out about sh*t that already has, the NoWorries method from "anti-guru" Sarah Knight helps you curb the anxiety and overthinking that's making everything worse. Calm the F*ck Down explains:

The Four Faces of Freaking Out -- and their Flipsides How to accept what you can't control Productive Helpful Effective Worrying (PHEW) The Three Principles of Dealing With It And much more!

Praise for Sarah Knight and the No F*cks Given Guides: "Self-help to swear by." -- The Boston Globe "Genius." -- Vogue "Hilarious, irreverent, and no-nonsense." -- Bustle
About the Author
---
Sarah Knight's first book, The Life-Changing Magic of Not Giving a F*ck, has been published in 23 languages and counting, and her TEDx talk, "The Magic of Not Giving a F*ck," has more than two million views. The second book in the No F*cks Given Guide series, Get Your Sh*t Together, is a New York Times bestseller, and her third, You Do You, was published in November 2017. Her writing has also appeared in Glamour, Harper's Bazaar, Marie Claire, Red, Refinery29, and elsewhere.

After quitting her corporate job in 2015 to pursue a freelance life, she moved from Brooklyn, New York, to the Dominican Republic, where she currently resides with her husband and a sh*tload of lizards.

Learn more at sarahknightauthor.com or follow her on Twitter and Instagram @MCSnugz. You can also sign up for her No F*cks Given newsletter at tinyletter.com/sarahknight.
Praise For…
---
INTERNATIONAL BESTSELLER
—
-
"[A] self-help hit designed to help you handle everything from minor inconveniences to major grievances."
—
Bustle
"If you tend to get stuck in a worry loop, Sarah Knight's new book has a way to help you escape."
—
The Pool
"Practical, not at all preachy, this book will take you from break-up to car breakdowns, and keep you calm all along the way."
—
Irish Examiner, "Top 100"
"If you like your self-help books to be no-nonsense then you'll love the work of Sarah Knight... a practical way to tackle overwhelming situations with no BS."
—
Woman's Way, "Book of the Week"
"Knight's tone is refreshingly direct but underneath the profanity is a serious message about how being realistic about what you can and can't achieve can actually have a transformative effect on your life."
—
iNews UK