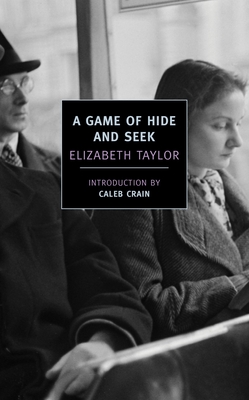 $18.95

Usually Ships in 1-5 Days
Description
---
A decade-spanning love story from an author who is "the missing link between Jane Austen and John Updike" (The Independent)

Haunted by unspoken tensions and stifled ardor, two lovers navigate shifting expectations and societal changes in inter-war England.
 
The mid-twentieth century British novelist Elizabeth Taylor numbered among her admirers Elizabeth Bowen, Ivy Compton-Burnett, and Kingsley Amis. She also regularly published stories in The New Yorker for close to two decades. For all that, her work, as steely as it is delicate, remains the secret of a small number of intensely devoted readers.

The publication of her finest novel, A Game of Hide and Seek, long unavailable in the United States, should help to change that. This is an unabashed love story, capturing all the uncertainty and inevitability and deceptiveness of true love, tracking the shifting currents of emotional life, and never yielding to melodrama. Set in Britain between the wars—a time of transition between old convention and new ways—the book's heroine is Harriet, the only child of a suffragette, whom we meet as a shy and domestic and not especially smart or pretty girl. At eighteen she falls in love with Vesey, but after Vesey must go away, she marries another man, Charles, and bears a child. Then Vesey returns.

Love is at the center of the book, but so too is Taylor's extraordinary knack for depicting characters. The minor figures in the book—from Harriet's mother's friend Caroline, with her progressive politics, to Charles, his coworkers, and his mother, to Betsy with her schoolgirl crush on her Greek teacher—are as memorable as the passion and heartache of Harriet and Vesey.
About the Author
---
ELIZABETH TAYLOR (1912–1975) was born into a middle-class family in Berkshire, England. She held a variety of positions, including librarian and governess, before marrying a businessman in 1936. Nine years later, her first novel, At Mrs. Lippincote's, appeared. She would go on to publish
eleven more novels, including Angel (available as an NYRB Classic), four collections of short stories (many of which originally appeared in The New Yorker, Harper's, and other magazines), and a children's book, Mossy Trotter, while living with her husband and two children in Buckinghamshire. Long championed by Ivy Compton-Burnett, Barbara Pym, Robert Liddell, Kingsley Amis, and Elizabeth Jane Howard, Taylor's novels and stories have been the basis for a number of films, including Mrs. Palfrey at the Claremont (2005), starring Joan Plowright, and François Ozon's Angel (2007). In 2013 NYRB Classics will publish a new selection of Taylor's short stories.

CALEB CRAIN is the author of American Sympathy, a study of friendship between men in early American literature. He has written for The New Yorker, The New York Review of Books, and n+1. His novel Necessary Errors will be published in 2013.
Praise For…
---
"Taylor has the genius of making her characters understood, sometimes with an almost frightening clarity, perhaps because she is compassionate as well as relentless in her delineation of them."
—The New York Times

"Funny, savage and full of loneliness and suppressed emotion."
—Rachel Cooke, The Observer

"It is time that justice was done to Elizabeth Taylor. . . . All her writings could be described as coming into the category of comedy. Comedy is the best vehicle for truths that are too fierce to be borne."
—Anita Brookner

"Elizabeth Taylor is finally being recognized as an important British author: an author of great subtlety, great compassion and great depth. As a reader, I have found huge pleasure in returning to Taylor's novels and short stories many times over. As a writer I've returned to her too—in awe of her achievements, and trying to work out how she does it." —Sarah Waters