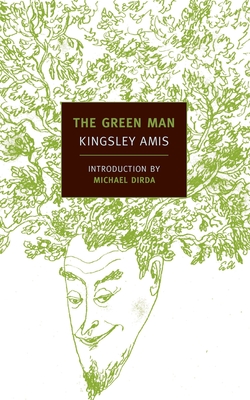 Description
---
The owner of a haunted country inn contends with death, fatherhood, romantic woes, and alcoholism in this humorous and "rattling good ghost story" from a Booker Prize–winning author (The New York Times)
 
Maurice Allington has reached middle age and is haunted by death. As he says, "I honestly can't see why everybody who isn't a child, everybody who's theoretically old enough to have understood what death means, doesn't spend all his time thinking about it. It's a pretty arresting thought." He also happens to own and run a country inn that is haunted. The Green Man opens as Maurice's father drops dead (had he seen something in the room?) and continues as friends and family convene for the funeral.

Maurice's problems are many and increasing: How to deal with his own declining health? How to reach out to a teenage daughter who watches TV all the time? How to get his best friend's wife in the sack? How to find another drink? (And another.) And then there is always death.

The Green Man is a ghost story that hits a live nerve, a very black comedy with an uncannily happy ending: in other words, Kingsley Amis at his best.
About the Author
---
Kingsley Amis (1922–1995) was a popular and prolific British novelist, poet, and critic, widely regarded as one of the greatest satirical writers of the twentieth century. Born in suburban South London, the only child of a clerk in the office of the mustard-maker Colman's, he went to the City of London School on the Thames before winning an English scholarship to St. John's College, Oxford, where he began a lifelong friendship with fellow student Philip Larkin. Following service in the British Army's Royal Corps of Signals during World War II , he completed his degree and joined the faculty at the University College of Swansea in Wales. Lucky Jim, his first novel, appeared in 1954 to great acclaim and won a Somerset Maugham Award. Amis spent a year as a visiting fellow in the creative writing department of Princeton University and in 1961 became a fellow at Peterhouse College, Cambridge, but resigned the position two years later, lamenting the incompatibility of writing and teaching ("I found myself fit for nothing much more exacting than playing the gramophone after three supervisions a day"). Ultimately he published twenty-four novels, including science fiction and a James Bond sequel; more than a dozen collections of poetry, short stories, and literary criticism; restaurant reviews and three books about drinking; political pamphlets and a memoir; and more. Amis received the Booker Prize for his novel The Old Devils in 1986 and was knighted by Queen Elizabeth II in 1990. He had three children, among them the novelist Martin Amis, with his first wife, Hilary Anne Bardwell, from whom he was divorced in 1965. After his second, eighteen-year marriage to the novelist Elizabeth Jane Howard ended in 1983, he lived in a London house with his first wife and her third husband.

Michael Dirda is a longtime book columnist for The Washington Post and the author, most recently, of Classics for Pleasure and the 2012 Edgar Award–winning On Conan Doyle.
Praise For…
---
"[T]he Fawlty Towers by way of Henry James Gothic comedy you didn't know you needed."
—Keziah Weir, Vanity Fair

"A thoroughly contemporary ghost story . . . A splendid chiller, in the uncomplicated, old-fashioned sense. As one might expect from the author of Lucky Jim, The Green Man is also an extremely funny book, filled with slapstick, parody and satire. Indeed, the success of this short novel depends very much on the balance that Amis maintains between fear and laughter."
—Robert Kiely, The New York Times
 
"Contains all the best and familiar Amis qualities—including superb sexual comedy."
—Sunday Times (UK)

"Kingsley Amis is an important writer, and we cannot afford to lose him. It is no small thing to have written a good ghost story; to have written a ghost story that is also a major novel is nothing short of miraculous."
—Book World
 
"What makes The Green Man readable and re-readable is the skill with which Amis, like Henry James before him, turns the narrative screw. It is, quite simply, a rattling good ghost story."
—The Times (UK)
 
"In the drunken, lecherous, God-fearing Maurice Allingham, the drunken, lecherous, God-loathing Kingsley Amis created a character who makes sin and redemption far more real and natural than they appear in the works of most professedly Christian novelists."
—The Independent (UK)
 
"Ghosts, exorcisms, sexual crises: even though first published back in 1969, Kingsley Amis's story The Green Man is as up-to-date as any trendy movie of the week. But Mr. Amis, something of an Evelyn Waugh-manque for our times, is after more than a passing chill or two. His hero ponders, through a boozy haze, nothing less than the meaning, or meaninglessness, of life."
—The New York Times
 
"How rarely do we come across the really frightening ghost story now. Kingsley Amis's The Green Man was a rare and honourable exception, and Amis followed the classic pattern of earlier writers, letting the story progress carefully from a recognisable normality, through unease, to the rapid unfolding of horror that marks out the most successful and scarifying of all horror story writers."
—The Guardian

"[A] powerful and to my mind much under-estimated ghost story."
—Malcolm Bradbury
 
*The Green Man was chosen by David Pringle for inclusion in his volume Modern Fantasy: 100 Best Novels (Grafton Books), as well as for James Cawthorne & Michael Moorcock's Fantasy: The 100 Best Books (Carroll & Graf), and in Kim Newman & Stephen Jones's  Horror: 100 Best Books (Carroll & Graf).