You are here
Back to top
The Man Who Invented Fiction: How Cervantes Ushered in the Modern World (Paperback)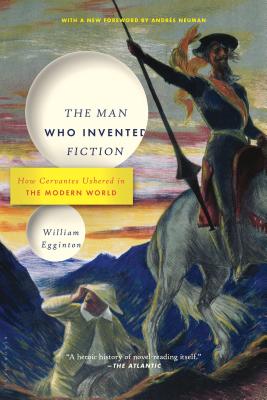 Description
---
"A heroic history of novel-reading itself." --The Atlantic
In the early seventeenth century, a crippled, graying, almost toothless veteran of Spain's wars against the Ottoman Empire published a book. It was the story of a poor nobleman, his brain addled from reading too many books of chivalry, who deludes himself that he is a knight errant and sets off on hilarious adventures. That book, Don Quixote, went on to sell more copies than any other book beside the Bible, making its author, Miguel de Cervantes, the single most-read author in human history. Cervantes did more than just publish a bestseller, though. He invented a way of writing. This book is about how Cervantes came to create what we now call fiction, and how fiction changed the world.
The Man Who Invented Fiction explores Cervantes's life and the world he lived in, showing how his influences converged in his work, and how his work--especially Don Quixote--radically changed the nature of literature and created a new way of viewing the world. Finally, it explains how that worldview went on to infiltrate art, politics, and science, and how the world today would be unimaginable without it.
William Egginton has brought thrilling new meaning to an immortal novel.
About the Author
---
William Egginton is Andrew W. Mellon Professor in the Humanities and Chair of the Department of German and Romance Languages and Literatures at Johns Hopkins University, USA. He is the author of In Defense of Religious Moderation, How the World Became a Stage, Perversity and Ethics, A Wrinkle in History, The Philosopher's Desire, and The Theater of Truth. He is also the coeditor of Thinking with Borges and The Pragmatic Turn in Philosophy. Egginton writes for the digital salon Arcade, published by Stanford University, and The Stone, an online forum for contemporary philosophers published by the New York Times. His intellectual biography of Cervantes, The Man Who Invented Fiction, will be published by Bloomsbury in 2014.
Praise For…
---
"The tale of Cervantes himself is told with impressive acuity, thoroughness and exactitude by Egginton in his uncommonly full and readable book about genius." - Buffalo News, Editor's Choice
"Egginton shines in his literary analysis, teasing out Cervantes's genius in accessible prose and showing how Don Quixote paved the way for modern fiction by exploring its characters' inner lives . . . An entertaining and thought-provoking reading of Cervantes's masterpiece." - Publishers Weekly
"A celebration of a beloved novel and its innovative author . . . Egginton's well-informed history of 16th-century Spanish life, politics, and culture makes for an engrossing read." - Kirkus Reviews
"We need books like this: not-purely-academic studies that could reinvigorate contemporary fiction--the idea of what contemporary fiction is or could be--by intervening in the past." - Flavorwire
"An engaging and enlightening book on the pivotal role of Cervantes in the development of western literature. He provides a literary, biographical, and historical overview of Cervantes's life and work in well-written prose mercifully free of jargon, and amply justifies the truth of his wonderfully provocative title." - Edith Grossman, renowned translator of DON QUIXOTE
"Egginton's study of Cervantes is a poignant account of Don Quixote, which with Montaigne's Essays is the only work contemporary with Shakespeare able to compete with his transcendent power. We know nothing that truly matters about Shakespeare, whose inwardness is concealed in the cosmos of his dramas. But with Cervantes and Montaigne we know nearly everything since each became his own subject. Four centuries after Cervantes and Shakespeare died, The Man Who Invented Fiction is a worthy memorial to the eternal achievement that Cervantes wrought out of his own suffering and hard-won wisdom." - Harold Bloom, Sterling Professor of Humanities, Yale University, and author of THE WESTERN CANON
"As this book shows us, Cervantes doesn't simply predate our idea of fiction; he conditions it, gives it form, makes it possible. In this sense, the present book can be understood as a genealogy of the literary imagination and its suffering father . . . . [The Man Who Invented Fiction] invites us on a journey through the misfortune-packed life of the author, showing how his difficulties, failures, and disappointments ended up crystallizing in the miracle of a book that recapitulates and redeems them at the same time . . . Egginton's entertaining, intelligent, solidly documented study . . . invites us to rediscover this summit of literature, preparing us to enjoy it between the lines and reminding us how the old man Cervantes continues to await us, an ironic smile on his lips, in that strange place called the future." - Andrés Neuman, novelist, author of TRAVELLER OF THE CENTURY, winner of the Alfaguara Prize
"An exceptionally readable account of Cervantes's literary career . . . Those reading William Egginton's study with fresh eyes will find much to whet the appetite." - Times Literary Supplement