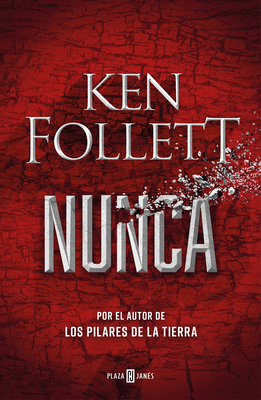 $24.95

Usually Ships in 1-5 Days
Description
---
Ken Follett regresa al thriller con una emocionante novela que imagina lo inimaginable: la inminente amenaza de una Tercera Guerra Mundial.

Desde el abrasador desierto del Sáhara hasta el Ala Oeste de la Casa Blanca y los corredores del poder de las grandes capitales del mundo, el maestro de la narrativa de acción y suspense imagina un escenario de crisis global sin precedentes en el que un pequeño grupo de personajes comprometidos y tenaces lucha en una carrera contrarreloj.

Nunca es un thriller extraordinario, lleno de heroínas y villanos, falsos profetas, agentes de élite, políticos desencantados y cínicos revolucionarios. Envía un mensaje de advertencia para nuestros tiempos y presenta una historia intensa y trepidante que transporta a los lectores hasta el filo de lo inimaginable.

«Cuando me documentaba para La caída de los gigantes me impactó darme cuenta de que la Primera Guerra Mundial fue una guerra que nadie quería. Ningún líder europeo de ninguno de los dos bandos tenía intención de que sucediera. Pero, uno por uno, los emperadores y primeros ministros, sin pretender la guerra, tomaron decisiones -decisiones lógicas y moderadas- que nos acercaron un pasito más a uno de los conflictos más terribles que el mundo ha conocido. Y me pregunté: podría suceder de nuevo?» KEN FOLLETT

ENGLISH DESCRIPTION

The new must-read epic from master storyteller Ken Follett: more than a thriller, it's an action-packed, globe-spanning drama set in the present day.
 
"A compelling story, and only too realistic." —Lawrence H. Summers, former U.S. Treasury Secretary

"Every catastrophe begins with a little problem that doesn't get fixed." So says Pauline Green, president of the United States, in Follett's nerve-racking drama of international tension.
 
A shrinking oasis in the Sahara Desert; a stolen US Army drone; an uninhabited Japanese island; and one country's secret stash of deadly chemical poisons: all these play roles in a relentlessly escalating crisis.
 
Struggling to prevent the outbreak of world war are a young woman intelligence officer; a spy working undercover with jihadists; a brilliant Chinese spymaster; and Pauline herself, beleaguered by a populist rival for the next president election.

Never is an extraordinary novel, full of heroines and villains, false prophets and elite warriors, jaded politicians and opportunistic revolutionaries. It brims with cautionary wisdom for our times, and a delivers a visceral, heart-pounding read that transports readers to the brink of the unimaginable.
About the Author
---
Ken Follett nació en Cardiff (Gales) y a los diez años su familia se trasladó a la capital británica. Realizó sus estudios en distintas escuelas públicas antes de licenciarse con honores en Filosofía en el University College de Londres. Comenzó su carrera como periodista en el periódico de su ciudad natal, el South Wales Echo, y luego trabajó en el London Evening News. Posteriormente se incorporó a una pequeña editorial, Everest Books, de la que terminó siendo director adjunto. Su primer gran éxito literario llegó en 1978 con la publicación de El ojo de la aguja.

Ken Follett es uno de los autores más queridos y admirados por los lectores de todo el mundo, y las ventas de sus libros superan los ciento setenta y cinco millones de ejemplares. Las tinieblas y el alba es la precuela de la saga iniciada en 1989 por Los pilares de la Tierra, el épico relato de la construcción de una catedral medieval del que se han vendido veintisiete millones de ejemplares. Su continuación, Un mundo sin fin, obtuvo también un gran éxito cuando se publicó en el año 2007 y en 2017 vio la luz Una columna de fuego, ambientada en la Inglaterra del siglo XVI durante el reinado de Isabel I.

Follett, que ama la música casi tanto como los libros, es un gran aficionado a tocar el bajo. Vive en Stevenage, Hertfordshire, con su esposa Barbara, exparlamentaria laborista por su circunscripción. Entre los dos tienen cinco hijos, seis nietos y dos perros labradores.