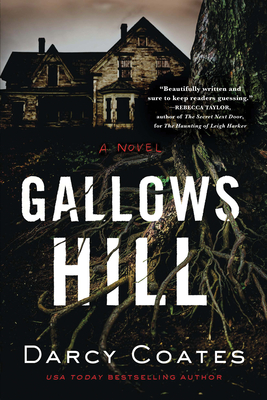 $15.99

Usually Ships in 1-5 Days
Description
---
"Coates ratchets up the ghostly manifestations till you can't imagine there are any more stops to pull out—though of course there are." —Kirkus Reviews
The Hull family has owned the Gallows Hill Winery for generations. Their wine wins awards. Their business prospers. Their family thrives. People whisper that the curse has awakened once more.
The sprawling old house has long been perched on top of a hill overlooking the nearby town, jealously guarding the estate's secrets.
It's been more than a decade since Margot Hull last saw her childhood home. She was young enough when she was sent away that she barely remembers its dark passageways and secret corners. But now she's returned to bury her parents and reconnect with the winery that is her family's legacy—and the bloody truth of exactly what lies buried beneath the crumbling estate. Alone in the sprawling, dilapidated building, Margot is forced to come face to face with the horrors of the past—and realize that she may be the next victim of a house that never rests...
Darcy Coates brings you a brand-new horror novel that'll take your breath away… Gallows Hill is perfect for fans of Jennifer McMahon, Simone St. James, lovers of ghost stories and anyone mesmerized by the twisted secrets of the past.
Also By Darcy Coates:
The Haunting of Leigh Harker
From Below
The Whispering Dead
The Haunting of Ashburn House
The Haunting of Blackwood House
Craven Manor
The House Next Door
Voices in the Snow
About the Author
---
Darcy Coates is the USA Today bestselling author of Hunted, The Haunting of Ashburn House, Craven Manor, and more than a dozen horror and suspense titles. She lives on the Central Coast of Australia with her family, cats, and a garden full of herbs and vegetables. Darcy loves forests, especially old-growth forests where the trees dwarf anyone who steps between them. Wherever she lives, she tries to have a mountain range close by.
Praise For…
---
"Catnip for fans of things that go bump in the night, and eventually the day." — Kirkus Reviews