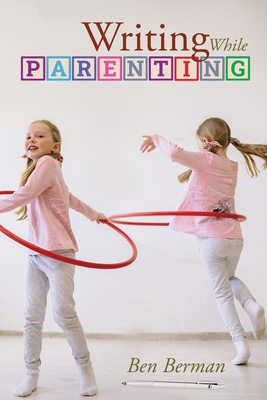 $23.95

Usually Ships in 1-5 Days
Description
---
Ben Berman's Writing While Parenting explores what it means to pursue a creative passion alongside raising a family, how having children can make a parent both more vulnerable and more adventurous as an artist. Given how hectic parenting is, is it possible to balance a career and family, let alone find two minutes to pee without someone tugging your leg and asking to watch you "make bubbles"? How does one possibly find the time or energy to be creative?
Spanning five years, these essays range from humorous moments (the seven-year-old daughter complaining that she "just got kicked in the weenie") to the more serious ones (finding two swastikas etched into the slide at the neighborhood playground). No matter its genesis, each piece thoughtfully examines the overlaps and the dissonance between the creative life and the procreative one. This is a witty, inspired, and illuminating collection for the writer, the parent, or both.
PRAISE FOR WRITING WHILE PARENTING:
Ben Berman's witty, brainy, soulful look at writing-while-parenting will speak to every parent-and every writer-committed to understanding the way that having kids raises the stakes for-and loosens the reins of-how we speak and write. What we blurt out, what we write down, the letters we help our children form, and those we hold ourselves back from forming for them-all matter. Every writer speaks to posterity, but Berman shows how parenthood brings that message-literally-home.
-Elisa New, director and host of Poetry in America
Writing While Parenting, Ben Berman's wonderful new collection, is a striking work of wit, wisdom, and authenticity. His narratives read like micro-memoirs: deep meditations on marriage and family in dramatic structures "between song and thought." In addressing daily routines, dinner dates, and making M&M pancakes, these essays, like poetry, intertwine "imprecise meanings and a] tangling of tones." This collection is as much about parenthood as it is process. For the writer, it is a reminder to see opportunity in every moment. I am enamored with Berman's care and precision with language and meaning. These essays are full of surprises, transforming the ordinary into the extraordinary at every turn.
-January O'Neil, author of Rewilding
Ben Berman's collection reveals a writer who is an astute reader, one situated within the community of literature, referencing other texts in ways dialogic and fruitful to us, readers of his text. Here Berman knits a kinship of the poetic, the philosophical, the etymological, and the revelatory in essays remarkable for their scope, surprises, and sheer delights. The fundamental kinship of family and its metaphors is the beautiful beating heart of this book, and Berman's skill as a storyteller gives that heart amazing life.
-Danielle Legros Georges, Boston Poet Laureate, 2015-2019
ABOUT THE AUTHOR:
Ben Berman is the author of Writing While Parenting, Figuring in the Figure, and Strange Borderlands, all from Able Muse Press in 2022, 2017, 2012 respectively; and Then Again (Vine Leaves Press, 2018). He has won the Peace Corps Award for the Best Book of Poetry, has been shortlisted twice for the Massachusetts Book Awards, and has received awards from the Massachusetts Cultural Council, New England Poetry Club, and Somerville Arts Council.
Ben has been teaching for over twenty years and currently teaches creative writing classes at Brookline High School. He lives in the Boston area with his wife and two daughters.