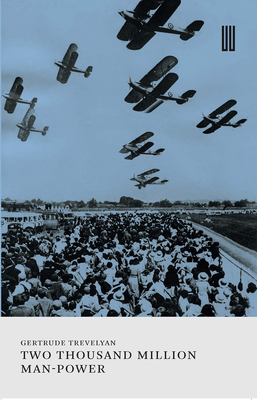 Description
---
'A 20th century literary classic ' This was best-selling novelist Rachel Hore's reaction when asked to introduce Gertrude Trevelyan's 1937 novel Two Thousand Million Man-Power.
Utterly forgotten for over 80 years, neither the book nor its author are mentioned in any history of 20th century English literature. Yet Trevelyan is arguably the finest novelist of the generation to follow Virginia Woolf and Two Thousand Million Man-Power is among her greatest achievements.
It is a masterly piece of social realism that traces the lives of a young London couple set against a background of rapid technological, ideological and political change, and satirizes contemporary bourgeois life and its fashionable interwar belief in endless progress.
Beginning on New Year's Eve, 1919, Two Thousand Million Man-Power follows Katherine and Robert, as university graduates, through almost 20 years of British history. Starting as idealistic radicals, they become comfortable middle-class consumers, only to then be plunged into unemployment and poverty when the stock market crashes. Trevelyan's portrait of life in the 1920s and 1930s is as fierce and gripping as George Orwell's The Road to Wigan Pier.
Two Thousand Million Man-Power continues the mission of Recovered Books series to rescue exceptional books long unavailable to today's readers.