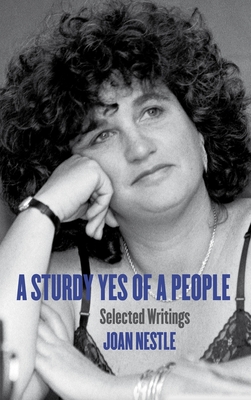 $29.84

Usually Ships in 1-5 Days
Description
---
Extraordinary collection of new and beloved work by writer, thinker, and theorist Joan Nestle.
For over fifty years, Joan Nestle has been chronicling lesbian and queer life boldly with guts, heart, and moral suasion. A Sturdy Yes of a People gathers Nestles most influential writing into a single volume presenting her persistent involvement in liberation movements, LGBTQ histories, erotic writing, and archives that document gay, lesbian, bisexual, transgender, and queer lives. Embedded in tales of lesbian desire are Nestle's concerns with the power of class and race in America to exile bodies.
From Nestle's earliest popular essays such as "Lesbians and Prostitutes: An Historical Sisterhood" to more recent powerfully evocative pieces like "I Lift My Eyes to the Hill" in which Nestle, a white lesbian, traces the life of her friend, African-American lesbian Mabel Hampton, A Sturdy Yes of a People gathers both her most enduring insights and new provocations for readers and fans to treasure or discover. Scholar Carolyn D'Cruz of La Trobe University in Victoria, Australia situates Nestle's work and its power while an afterword by Susie Bright reminds readers of how transgressive and potent Nestle's sex writing was--and remains.
A bold and original thinker, deeply connected with her communities, with an abiding willingness to reexamine and reimagine queer lives by integrating new ideas, challenges, and experiences, Nestle dazzles as a powerful thinker, writer, and theorist.
"Joan Nestle is a warrior. Yes."--Cheryl Clarke, poet, essayist, scholar
"I have fallen in love with Joan Nestle all over again--her heart and her passionate belief that history is both created and found in the rich specifics of lives as they have been lived."--Samuel Ace, author of Our Weather Our Sea
"Where would I be without Joan Nestle? I can't imagine my life without the fierce generosity of her writing on erotic pleasure, lesbian archives, Jewish working-class wisdom, and, above all, femme ways of knowing and being. For decades, she has gathered others together through her archival and editorial activism, now A Sturdy Yes of a People showcases the passionate force of her own words."--Ann Cvetkovich, author of An Archive of Feelings: Trauma, Sexuality, and Lesbian Public Cultures
Literary Nonfiction. Essay. Jewish Studies. LGBTQ+ Studies. Women's Studies.